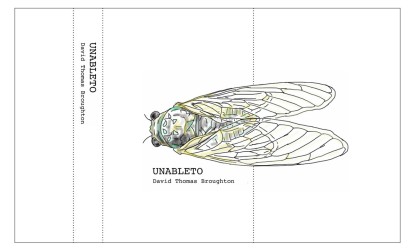 The official release details read:
"UnAbleTo, David Thomas Broughton's first effort since 2011's Outbreeding,blends his distinctively rich baritone and folk sensibilities with cut up dance beats and harsh noise loops, making an album completely different from anything that's come before.
A jumble of electronic samples, feedback mishaps and manipulations, mixed with folk songs. All played into the pin mic of a Macbook, colliding on Ableton Live in haphazard and randomised arrangements. A study in seeing what happens. Loops phase, falling in and falling out, locking into ambient sprawl or cutting into manipulated noise.
The lush and strange first single is "Problems," which is as much folk-pop genius as it is a propaganda piece for a new – as yet, unknown and undefined – type of faith.
In the physical realm, UnAbleTo is limited to 100 hand-numbered cassette tapes, while also existing perpetually in the digital realm."
Release Date: October 29th, 2013
​Released by Antiquated Future Records (antiquatedfuture.bandcamp.com)
Distributed by the Antiquated Future distro (antiquatedfuture.com)
Soundcloud Stream: https://soundcloud.com/antiquated-future-records/david-thomas-broughton-1
Digital Album: http://antiquatedfuture.bandcamp.com/album/unableto
Physical Album: http://antiquatedfuture.com/music/unableto/
​Track Listing:
A1. Untitled 280710
A2. Untitled 3
A3. Salvation
A4. Soil of War
A5. Problems
A6. Faith in Women
B1. Take the Edge Off
B2. Martha
B3. Rather Forgive