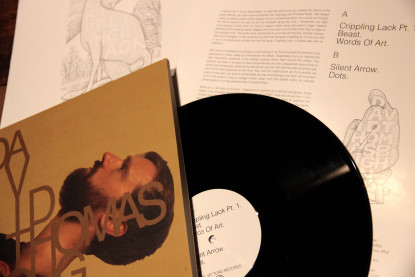 Finally, the 3 volume album I started making over four years ago, in collaboration with engineer Raphäelle Duquesnoy in France, and by email exchange from Pyongyang, and with contributions from a number of acquaintances worldwide, is being released!
I've performed versions of these songs live for a while and some I haven't previewed, but all are new to record.
Volume 1, Released on Song, by Toad records this month. Has the tracks:  1. Crippling Lack part 1, 2. Beast, 3, Words of Art, 4, Silent Arrow, 5, Dots.
First airing of any material off the record is the duet I worte for me and Aidan Moffat, ex. Arab Strap, and Scottish lyrical hero. Surprisingly he agreed to it and we have a wonky love-rebutted song. GoldFlakePaint previewed it.